Tabata/HIIT RIDE
This class is taught by: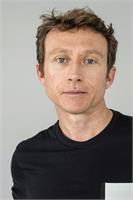 I

f you want to move to some serious electro house beats, then Chris' class is what you are looking for. As a former NYC bike messenger and a current local DJ, Chris will navigate your Ride through the traffic and let the music take you to the next level.
"I love music as a fitness motivator" says Chris. "Have you ever been exercising and that certain song will come through the headphones and you feel a burst of energy? That's your brain taking over and telling your muscles to work harder." Chris' class will give your mind and body that extra motivation to bring out your optimum performance.
Hard Work? Yes. Results? Check. Fun? Absolutely.
Tabata sets consist of 20 seconds of HIGHEST output with a 10 second recovery (8x). HIIT is a challenging pace for 30-90 seconds of work with recovery periods. This is not for beginners, but you can ride a slower pace during drills. This is the fastest ways to improve fitness levels and torch calories!
Upcoming classes:
Sign Up

Tue

Nov 21 4:45 pm - 5:35 pm

with

Chris

Bruce




Sign Up

Tue

Nov 28 4:45 pm - 5:35 pm

with

Chris

Bruce




Tue

Dec 05 4:45 pm - 5:35 pm

with

Chris

Bruce




Tue

Dec 12 4:45 pm - 5:35 pm

with

Chris

Bruce




Tue

Dec 19 4:45 pm - 5:35 pm

with

Chris

Bruce




Tue

Dec 26 4:45 pm - 5:35 pm

with

Chris

Bruce




Tue

Jan 02 4:45 pm - 5:35 pm

with

Chris

Bruce




Tue

Jan 09 4:45 pm - 5:35 pm

with

Chris

Bruce




Tue

Jan 16 4:45 pm - 5:35 pm

with

Chris

Bruce




Tue

Jan 23 4:45 pm - 5:35 pm

with

Chris

Bruce




Tue

Jan 30 4:45 pm - 5:35 pm

with

Chris

Bruce




Tue

Feb 06 4:45 pm - 5:35 pm

with

Chris

Bruce




Tue

Feb 13 4:45 pm - 5:35 pm

with

Chris

Bruce




Tue

Feb 20 4:45 pm - 5:35 pm

with

Chris

Bruce




Tue

Feb 27 4:45 pm - 5:35 pm

with

Chris

Bruce




Tue

Mar 06 4:45 pm - 5:35 pm

with

Chris

Bruce




Tue

Mar 13 4:45 pm - 5:35 pm

with

Chris

Bruce