Ambient Flow + Stretch
This class is taught by: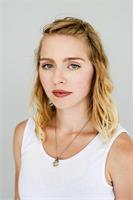 Bri loves the ability for yoga to combine the breath and the body for a moving meditation. Her classes focus on alignment, movement, and also exploring new space within yourself mentally, emotionally, and physically. She holds a great deal of importance for acting as a guide to everyone's personal practice whether that means needing to be in child's pose for most of class because of a tiring day, to using that extra bit of energy you have to try out something new. Yoga is an important and fun tool to use in everyday life and is a journey that she enjoys accompanying her students on.
Torn between a heart-pounding power flow and being able to chill in pigeon or child's pose for a few minutes? This class is for you and is set to ambient soundscapes that pump you up and then help you relax. The first 25-30 minutes of class is devoted to yoga based workout moves with a twist. We might go from chair into pistol squats or from a side lunge into skaters to get your workout in, your body moving, and with a focus on really building strength. Once all that hard work is done, the music slows and the lights go down as we finish the class doing yin yoga. Most postures are on the mat and are held from 2-5 minutes with blocks and straps for support as we ease into the stretches and into a calmer state of mind. Get the best of both worlds in this class.
Upcoming classes:
Sign Up

Thu

Aug 24 6:00 pm - 7:10 pm

with

Bri

Sikorski




Sign Up

Thu

Aug 31 6:00 pm - 7:10 pm

with

Bri

Sikorski




Thu

Sep 07 6:00 pm - 7:10 pm

with

Bri

Sikorski




Thu

Sep 14 6:00 pm - 7:10 pm

with

Bri

Sikorski




Thu

Sep 21 6:00 pm - 7:10 pm

with

Bri

Sikorski




Thu

Sep 28 6:00 pm - 7:10 pm

with

Bri

Sikorski




Thu

Oct 05 6:00 pm - 7:10 pm

with

Bri

Sikorski




Thu

Oct 12 6:00 pm - 7:10 pm

with

Bri

Sikorski




Thu

Oct 19 6:00 pm - 7:10 pm

with

Bri

Sikorski




Thu

Oct 26 6:00 pm - 7:10 pm

with

Bri

Sikorski




Thu

Nov 02 6:00 pm - 7:10 pm

with

Bri

Sikorski




Thu

Nov 09 6:00 pm - 7:10 pm

with

Bri

Sikorski




Thu

Nov 16 6:00 pm - 7:10 pm

with

Bri

Sikorski




Thu

Nov 23 6:00 pm - 7:10 pm

with

Bri

Sikorski




Thu

Nov 30 6:00 pm - 7:10 pm

with

Bri

Sikorski




Thu

Dec 07 6:00 pm - 7:10 pm

with

Bri

Sikorski




Thu

Dec 14 6:00 pm - 7:10 pm

with

Bri

Sikorski