9 Volt
This class is taught by: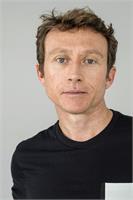 I

f you want to move to some serious electro house beats, then Chris' class is what you are looking for. As a former NYC bike messenger and a current local DJ, Chris will navigate your Ride through the traffic and let the music take you to the next level.
"I love music as a fitness motivator" says Chris. "Have you ever been exercising and that certain song will come through the headphones and you feel a burst of energy? That's your brain taking over and telling your muscles to work harder." Chris' class will give your mind and body that extra motivation to bring out your optimum performance.
Hard Work? Yes. Results? Check. Fun? Absolutely.
9 Volt, like the battery that lasts and lasts, but not so square. This class will sculpt with heavier dumbbells and slower movements allowing us to get to muscle failure quicker. The end result being stronger bodies that are less prone to injury.
Upcoming classes:
Sign Up

Mon

Nov 20 12:10 pm - 1:00 pm

with

Chris

Bruce




Sign Up

Mon

Nov 27 12:10 pm - 1:00 pm

with

Chris

Bruce




Mon

Dec 04 12:10 pm - 1:00 pm

with

Chris

Bruce




Mon

Dec 11 12:10 pm - 1:00 pm

with

Chris

Bruce




Mon

Dec 18 12:10 pm - 1:00 pm

with

Chris

Bruce




Mon

Dec 25 12:10 pm - 1:00 pm

with

Chris

Bruce




Mon

Jan 01 12:10 pm - 1:00 pm

with

Chris

Bruce




Mon

Jan 08 12:10 pm - 1:00 pm

with

Chris

Bruce




Mon

Jan 15 12:10 pm - 1:00 pm

with

Chris

Bruce




Mon

Jan 22 12:10 pm - 1:00 pm

with

Chris

Bruce




Mon

Jan 29 12:10 pm - 1:00 pm

with

Chris

Bruce




Mon

Feb 05 12:10 pm - 1:00 pm

with

Chris

Bruce




Mon

Feb 12 12:10 pm - 1:00 pm

with

Chris

Bruce




Mon

Feb 19 12:10 pm - 1:00 pm

with

Chris

Bruce




Mon

Feb 26 12:10 pm - 1:00 pm

with

Chris

Bruce




Mon

Mar 05 12:10 pm - 1:00 pm

with

Chris

Bruce




Mon

Mar 12 12:10 pm - 1:00 pm

with

Chris

Bruce