Cardio Barre
This class is taught by: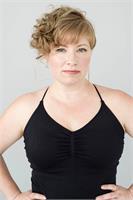 My love for Barre stems from my years of dance in NYC where I danced professionally with Frank Hatchett, Savion Glover, the Fly Girls of In Living Color. My passion for dance began when I was three years old and has never faded. I have been trained in ballet, tap, jazz, hip-hop and theatre and have choreographed and danced for music groups such as Heavy D and The Boyz. My career has been reignited over the past couple of years where I have been teaching Barre classes, along with Indoor Cycling and Personal Training. When I'm not teaching fitness classes, I'm working one on one with my personal training clients on getting fit, healthy and balanced at MY STUDIO in Chapel Hill which I own and operate.
I also hold a degree in Interior Design and have worked independently for 10 years. My philosophy is "commit, let loose and enjoy the music. Everything else will fall in place and you will discover your inner ballerina."
Carolyn J. Levy
MY STUDIO
Personalized training for every person
Certified Personal Trainer, Barre, Spin and TRX instructor
646-431-3464
This barre class will work you in big and small movements to get the heart rate pumping. Challenge your strength, endurance and balance to sculpt and tone. All levels welcome to this fast paced class. Alignment and a good awareness of movement is helpful, but not required.
This class offers choreography with quick coordinated movements so a good foundation of barre, Pilates, and dance are very helpful.
Upcoming classes:
Sign Up

Sat

Dec 16 9:35 am - 10:35 am

with

Carolyn

Levy




Sign Up

Tue

Dec 19 7:00 pm - 8:00 pm

with

Carolyn

Levy




Sign Up

Sat

Dec 23 9:35 am - 10:35 am

with

Carolyn

Levy




Sat

Dec 30 9:35 am - 10:35 am

with

Carolyn

Levy




Tue

Jan 02 7:00 pm - 8:00 pm

with

Carolyn

Levy




Sat

Jan 06 9:35 am - 10:35 am

with

Carolyn

Levy




Tue

Jan 09 7:00 pm - 8:00 pm

with

Carolyn

Levy