WineBarre
This class is taught by: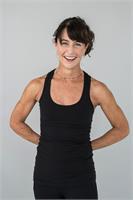 Alicia has enjoyed cycling and barre classes for many years. As a special education/preschool teacher and later mother of two, she used spinning to keep up her energy and strength. In 2006, while rehabilitating from a serious back injury, Alicia discovered Bar Method in, her then local, San Francisco. The exercises were easily modified with help from her instructors allowing her to heal and build her core strength. Barre ultimately played a significant role in her recovery and on going back health.
Since then she hasn't looked back. Barre classes have become the core of her exercise regimen to compliment her cycling classes. Alicia is stronger than ever and continues to see her body change for the better benefiting from the physical and emotional well-being exercise gives her. Alicia is excited to have joined Ride Cycle Studio where cycle and barre classes are joined in one place. "Yippee!" "They are a great combination for both building and maintaining ones fitness. I'm thrilled to be a part of Ride Cycle Studio, join me for a class to burn those muscles and create a longer leaner fit body."
One Friday a month join us for our usually challenging (re)shape barre class followed by a bold red or well balanced white. A nice way to start off your weekend with like minded friends!
Upcoming classes:
Sign Up

Fri

Dec 01 5:30 pm - 6:30 pm

with

Alicia

Linstead




Fri

Dec 08 5:30 pm - 6:30 pm

with

Alicia

Linstead




Fri

Dec 15 5:30 pm - 6:30 pm

with

Alicia

Linstead




Fri

Dec 22 5:30 pm - 6:30 pm

with

Alicia

Linstead




Fri

Dec 29 5:30 pm - 6:30 pm

with

Alicia

Linstead




Fri

Jan 05 5:30 pm - 6:30 pm

with

Alicia

Linstead




Fri

Jan 12 5:30 pm - 6:30 pm

with

Alicia

Linstead




Fri

Jan 19 5:30 pm - 6:30 pm

with

Alicia

Linstead




Fri

Jan 26 5:30 pm - 6:30 pm

with

Alicia

Linstead




Fri

Feb 02 5:30 pm - 6:30 pm

with

Alicia

Linstead




Fri

Feb 09 5:30 pm - 6:30 pm

with

Alicia

Linstead




Fri

Feb 16 5:30 pm - 6:30 pm

with

Alicia

Linstead




Fri

Feb 23 5:30 pm - 6:30 pm

with

Alicia

Linstead




Fri

Mar 02 5:30 pm - 6:30 pm

with

Alicia

Linstead




Fri

Mar 09 5:30 pm - 6:30 pm

with

Alicia

Linstead




Fri

Mar 16 5:30 pm - 6:30 pm

with

Alicia

Linstead