#Tabata/HIIT RIDE
This class is taught by: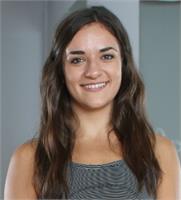 Maggie is a UNC Chapel Hill graduate with a passion for fitness and health. She attended her first RIDE class in February of 2014 and has been riding ever since. Her background in dance has turned into a love for barre and yoga classes. Maggie keeps her ear to the ground of the music community and will keep class hot with new beats and old school jams. She will challenge and inspire you to make every RIDE worth the time out of your busy schedule. She is thankful to have found a home at RIDE Cycle Studio and hopes to see you in the saddle!
High interval training with reps for 20 seconds with a quick 10 second recovery. The # doesn't stand for hashtag, but rather pounds! That's right, we are going to add weights to this class to get a whole body work out. This is not for beginners, but you can ride a slower pace during drills. Tabata's are one of the fastest ways to improve fitness levels and torch calories!
Upcoming classes:
Sign Up

Thu

Oct 19 8:30 am - 9:20 am

with

Maggie

Zebrine




Sign Up

Thu

Oct 26 8:30 am - 9:20 am

with

Maggie

Zebrine




Thu

Nov 02 8:30 am - 9:20 am

with

Maggie

Zebrine




Thu

Nov 09 8:30 am - 9:20 am

with

Maggie

Zebrine




Thu

Nov 16 8:30 am - 9:20 am

with

Maggie

Zebrine




Thu

Nov 23 8:30 am - 9:20 am

with

Maggie

Zebrine




Thu

Nov 30 8:30 am - 9:20 am

with

Maggie

Zebrine




Thu

Dec 07 8:30 am - 9:20 am

with

Maggie

Zebrine




Thu

Dec 14 8:30 am - 9:20 am

with

Maggie

Zebrine




Thu

Dec 21 8:30 am - 9:20 am

with

Maggie

Zebrine




Thu

Dec 28 8:30 am - 9:20 am

with

Maggie

Zebrine




Thu

Jan 04 8:30 am - 9:20 am

with

Maggie

Zebrine




Thu

Jan 11 8:30 am - 9:20 am

with

Maggie

Zebrine




Thu

Jan 18 8:30 am - 9:20 am

with

Maggie

Zebrine




Thu

Jan 25 8:30 am - 9:20 am

with

Maggie

Zebrine




Thu

Feb 01 8:30 am - 9:20 am

with

Maggie

Zebrine




Thu

Feb 08 8:30 am - 9:20 am

with

Maggie

Zebrine




Thu

Feb 15 8:30 am - 9:20 am

with

Maggie

Zebrine