Alicia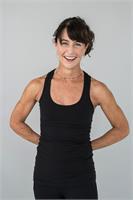 Alicia has enjoyed cycling and barre classes for many years. As a special education/preschool teacher and later mother of two, she used spinning to keep up her energy and strength. In 2006, while rehabilitating from a serious back injury, Alicia discovered Bar Method in, her then local, San Francisco. The exercises were easily modified with help from her instructors allowing her to heal and build her core strength. Barre ultimately played a significant role in her recovery and on going back health.
Since then she hasn't looked back. Barre classes have become the core of her exercise regimen to compliment her cycling classes. Alicia is stronger than ever and continues to see her body change for the better benefiting from the physical and emotional well-being exercise gives her. Alicia is excited to have joined Ride Cycle Studio where cycle and barre classes are joined in one place. "Yippee!" "They are a great combination for both building and maintaining ones fitness. I'm thrilled to be a part of Ride Cycle Studio, join me for a class to burn those muscles and create a longer leaner fit body."
Alicia instructs the following:
Based on the Barre Absolute class but with a little more hot sauce! Generally keeping the light weights and other resistance equipment in play beyond the arm segment. You will be lead through some longer sets and challenging combinations working thighs, booty and core. Always have the option to lower weights and use body resistance. This 60 minute class will increase both your strength and stamina while keeping your body long and lean with proven barre stretches. All levels welcome.




This 50 minute class offers movement with various equipment and use of your body weight. Focus on the your gluteal muscles, continuous core connection and working your arms to increase overall strength and burn more fat while resting. Movements from different disciplines are incorporated to engage targeted muscle groups with higher reps.




Reshape your entire body in 60 minute class. The perfect blend of cardio along with muscle building, core toning and body slimming exercises mixed with cardio and orthopedic stretching. This unique total-body workout targets the arms, thighs, seat and core. Based on the principles of the Lotte Berk Method and Callenetics you get the fat-burning benefits of interval training by isolating the muscles with precise isometric movements followed by orthopedic stretching to sculpt long, lean muscles. Using your own body weight as resistance you will sculpt your body to perfection with this combination of cardio and strength training. Long lean legs, a lifted seat, a tighter core, increased flexibility and strength are just a few of the benefits.




Jam packed barre class to work you head to toe so you can squeeze in more muscle in less time. You will double up on muscle groups to maximum burn time. This class is fast paced with stretches generally reserved to the end of class.




One Friday a month join us for our usually challenging (re)shape barre class followed by a bold red or well balanced white. A nice way to start off your weekend with like minded friends!




This is great for those who want to just take the RIDE portion of Hybrid Classes. Want to take both but are on the WL? You can double book this time.