Dawn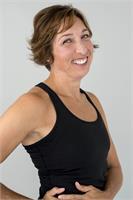 Dawn's passion for athletics began at an early age as a competitive gymnast. Her enthusiasm for gymnastics drew her to springboard diving in high school where she earned a national champion title and was 8 time All-American diver at the United States Air Force Academy.
During her career as an air force officer and pilot, she continued her active lifestyle of running, mountain biking, spinning, and snowboarding. Always looking for a new challenge, Dawn discovered Barre, and was immediately hooked! Dawn loves the intensity and variety of Barre and Spin, and she is excited to share her passion for seeking new challenges with others.
Dawn instructs the following:
This is great for those who want to just take the RIDE portion of Hybrid Classes. Want to take both but are on the WL? You can double book this time.




Jam packed barre class to work you head to toe so you can squeeze in more muscle in less time. You will double up on muscle groups to maximum burn time. This class is fast paced with stretches generally reserved to the end of class.




This amped up barre class continues to build during the entire hour. Experience muscle sculpting, posture tuning and hi-fi movements and combos that will get your metabolism revved up without having to lace up your trainers and hit the pavement! Progression of movements with attention to posture and breath helps keep you tuned in and working at your level with options to add on and back off where your body needs it. Stretches incorporated where needed but generally reserved for the end of a section or closing of class. Clients are always encouraged to take breaks and stretches where they need them.




It's the ever popular "Bike to Barre" class with an emphasis on arms and abs on the "Barre" side of class.