Dawn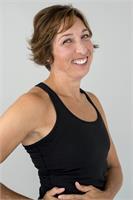 Dawn's passion for athletics began at an early age as a competitive gymnast. Her enthusiasm for gymnastics drew her to springboard diving in high school where she earned a national champion title and was 8 time All-American diver at the United States Air Force Academy.
During her career as an air force officer and pilot, she continued her active lifestyle of running, mountain biking, spinning, and snowboarding. Always looking for a new challenge, Dawn discovered Barre, and was immediately hooked! Dawn loves the intensity and variety of Barre and Spin, and she is excited to share her passion for seeking new challenges with others.
Dawn instructs the following:
This is great for those who want to just take the RIDE portion of Hybrid Classes. Want to take both but are on the WL? You can double book this time.




Reshape your entire body in 60 minute class. The perfect blend of cardio along with muscle building, core toning and body slimming exercises mixed with cardio and orthopedic stretching. This unique total-body workout targets the arms, thighs, seat and core. Based on the principles of the Lotte Berk Method and Callenetics you get the fat-burning benefits of interval training by isolating the muscles with precise isometric movements followed by orthopedic stretching to sculpt long, lean muscles. Using your own body weight as resistance you will sculpt your body to perfection with this combination of cardio and strength training. Long lean legs, a lifted seat, a tighter core, increased flexibility and strength are just a few of the benefits.




Not the kind you eat, but jam packed to work you head to toe so you can squeeze in more muscle in less time. You will double up on muscle groups to maximum burn time. This class is fast paced with stretches generally reserved to the end of class.




Based on the Barre Absolute class but with a little more hot sauce! Generally keeping the light weights and other resistance equipment in play beyond the arm segment. You will be lead through some longer sets and challenging combinations working thighs, booty and core. Always have the option to lower weights and use body resistance. This 60 minute class will increase both your strength and stamina while keeping your body long and lean with proven barre stretches. All levels welcome.