Maggie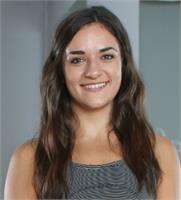 Maggie is a UNC Chapel Hill graduate with a passion for fitness and health. She attended her first RIDE class in February of 2014 and has been riding ever since. Her background in dance has turned into a love for barre and yoga classes. Maggie keeps her ear to the ground of the music community and will keep class hot with new beats and old school jams. She will challenge and inspire you to make every RIDE worth the time out of your busy schedule. She is thankful to have found a home at RIDE Cycle Studio and hopes to see you in the saddle!
Maggie instructs the following:
Reshape your entire body in 60 minute class. The perfect blend of cardio along with muscle building, core toning and body slimming exercises mixed with cardio and orthopedic stretching. This unique total-body workout targets the arms, thighs, seat and core. Based on the principles of the Lotte Berk Method and Callenetics you get the fat-burning benefits of interval training by isolating the muscles with precise isometric movements followed by orthopedic stretching to sculpt long, lean muscles. Using your own body weight as resistance you will sculpt your body to perfection with this combination of cardio and strength training. Long lean legs, a lifted seat, a tighter core, increased flexibility and strength are just a few of the benefits.




This is great for those who want to just take the RIDE portion of Hybrid Classes. Want to take both but are on the WL? You can double book this time.




#RIDE offers cardio, endurance, core connection and upper body strengthening. We move, sprint, jump and climb with the music. The (#) Weights are integrated one-two songs on their own or with the RIDE. This class will provide a challenging workout for all levels. Heart rate monitors are recommended but not necessary.




High interval training with reps for 20 seconds with a quick 10 second recovery. The # doesn't stand for hashtag, but rather pounds! That's right, we are going to add weights to this class to get a whole body work out. This is not for beginners, but you can ride a slower pace during drills. Tabata's are one of the fastest ways to improve fitness levels and torch calories!




Jam packed barre class to work you head to toe so you can squeeze in more muscle in less time. You will double up on muscle groups to maximum burn time. This class is fast paced with stretches generally reserved to the end of class.




This 50 minute class offers movement with various equipment and use of your body weight. Focus on the your gluteal muscles, continuous core connection and working your arms to increase overall strength and burn more fat while resting. Movements from different disciplines are incorporated to engage targeted muscle groups with higher reps.




The cycle-barre combo class, DJ Bike to Barre, will get your heart pumping to burn fat and gain endurance. This is our original Bike to Barre class with the spin, of the turn tables that is! DJ Elbruque will be spinning on the 1s and 2s as you ride with your instructor! You will start with a cardio intense 35 minute RIDE, then you'll slide off the saddle and head to the barre room for strengthening and lengthening, defining muscle with every class. Prepare to sweat, we will be maximizing our time on the bike and in the barre room!