Trina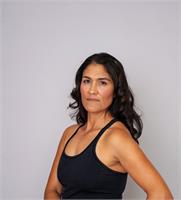 After years dedicated to playing competitive sports, coaching collegiate softball and putting my body through mass amounts of high performance training. I discovered Bar Method in 2012 when I was getting into wedding shape. I hoped it would be the perfect compliment to daily running and bootcamp training. I quickly fell in love with how each class challenged my strength, flexibility, balance and stamina in a way that no one workout alone ever had before. I was HOOKED!
It wasn't long before I became certified to teach and spent the next 3+ years sharing my love for this barre-based workout with as many clients and friends as possible. I can't say enough positives about the transformations I have seen first hand...inches lost, pounds shed, body types transformed to longer leaner versions. However, the true benefits go beyond the physical as the workout itself is uplifting and empowering, which is why I am so excited to be joining the Ride Cycle Studio staff here in Durham. I look forward to taking along side you or teaching you in class very soon!
Trina instructs the following:
A traditional 60 minute barre format which includes warm-up, arms, thigh, seat, core work and stretching. All levels are welcome in this class, as our knowledgeable instructors will demonstrate modifications applicable to beginner, intermediate and advanced students. This is your HEAD to Toe solution for building strength and getting all your muscles humming!