Sammantha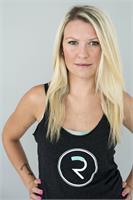 Sammantha is a triangle transplant, and is originally from Pennsylvania. She stumbled upon RIDE Cycle Studio in October 2014, after she had ended a long term relationship with distance running. She was looking for new way to keep in shape, after having two hip surgeries, most recently in April 2015. She wanted a combination workout that involved an intense cardio routine and a way to sculpt, so she took her first class and has been hooked ever since. Sammantha was a cheerleader from the age of 7 to 18, and it shows through her spirit, positive energy and love of life. Her loud, larger then life personality comes to life on the saddle!
Sammantha's classes will be fast, high-energy, and empower the rider to embrace their inner super star!
Sammantha is excited to be instructing at RIDE, and hopes to see you in the saddle!
Sammantha is currently not instructing any classes.