Adam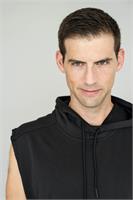 Adam is currently a Ph.D. candidate and MBA student at NC State, and he's excited to one day start his career as a biotech entrepreneur.
Adam grew up as a runner and ran track and cross country in high school. As an undergrad at the University of Wisconsin he participated in a variety of sports like track and crew, but ended up falling in love with cycling. He joined the UW Cycling team in 2009 and was an active member for 3 years before moving to Durham, where he continues to bike and run marathons.
He took his first cycling class at RIDE in early 2016 and was instantly sold on the combination of spin and moves that gives you a total body workout. Adam's classes will focus on building up your cardiovascular strength and will push you to your limits. Come join him on the bike and be prepared to give it your all!
Adam instructs the following:
#RIDE offers cardio, endurance, core connection and upper body strengthening. We move, sprint, jump and climb with the music. The (#) Weights are integrated one-two songs on their own or with the RIDE. This class will provide a challenging workout for all levels. Heart rate monitors are recommended but not necessary.