Elise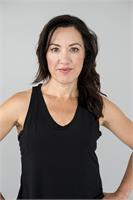 Elise found her first spinning class back in the day when pay-phones were still plentiful in Manhattan and you always had to have cash for a cab. After her first class, she was hooked on that "runner's high," and the calorie burn these classes offered. Years of classes and a baby later she was inspired to become an instructor herself. Elise has been teaching spinning/cycle classes for the last 10 years here in NC and in NYC which has given her great exposure and experience in the industry. A lover of Barre, Yoga and Pilates, lead her to be Barre instructor and has been teaching for the last three years. Music is supreme to how Elise creates her cycle classes, taking her clients on a journey where you connect the beat with your RIDE. Elise is RIDE CYCLE STUDIO's creator and owner.
Elise instructs the following:
Based on the Barre Absolute class but with a little more hot sauce! Generally keeping the light weights and other resistance equipment in play beyond the arm segment. You will be lead through some longer sets and challenging combinations working thighs, booty and core. Always have the option to lower weights and use body resistance. This 60 minute class will increase both your strength and stamina while keeping your body long and lean with proven barre stretches. All levels welcome.




This is great for those who want to just take the RIDE portion of Hybrid Classes. Want to take both but are on the WL? You can double book this time.




#RIDE offers cardio, endurance, core connection and upper body strengthening. We move, sprint, jump and climb with the music. The (#) Weights are integrated one-two songs on their own or with the RIDE. This class will provide a challenging workout for all levels. Heart rate monitors are recommended but not necessary.




The cycle-barre combo class, DJ Bike to Barre, will get your heart pumping to burn fat and gain endurance. This is our original Bike to Barre class with the spin, of the turn tables that is! DJ Elbruque will be spinning on the 1s and 2s as you ride with your instructor! You will start with a cardio intense 35 minute RIDE, then you'll slide off the saddle and head to the barre room for strengthening and lengthening, defining muscle with every class. Prepare to sweat, we will be maximizing our time on the bike and in the barre room!




A traditional 60 minute barre format which includes warm-up, arms, thigh, seat, core work and stretching. All levels are welcome in this class, as our knowledgeable instructors will demonstrate modifications applicable to beginner, intermediate and advanced students. This is your HEAD to Toe solution for building strength and getting all your muscles humming!




This 50 minute class offers movement with various equipment and use of your body weight. Focus on the your gluteal muscles, continuous core connection and working your arms to increase overall strength and burn more fat while resting. Movements from different disciplines are incorporated to engage targeted muscle groups with higher reps.