Elise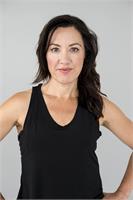 Elise found her first spinning class back in the day when pay-phones were still plentiful in Manhattan and you always had to have cash for a cab. After her first class, she was hooked on that "runner's high," and the calorie burn these classes offered. Years of classes and a baby later she was inspired to become an instructor herself. Elise has been teaching spinning/cycle classes for the last 10 years here in NC and in NYC which has given her great exposure and experience in the industry. A lover of Barre, Yoga and Pilates, lead her to be Barre instructor and has been teaching for the last three years. Music is supreme to how Elise creates her cycle classes, taking her clients on a journey where you connect the beat with your RIDE. Elise is RIDE CYCLE STUDIO's creator and owner.
Elise instructs the following:
This is great for those who want to just take the RIDE portion of Hybrid Classes. Want to take both but are on the WL? You can double book this time.




Based on the Barre Absolute class but with a little more hot sauce! Generally keeping the light weights and other resistance equipment in play beyond the arm segment. You will be lead through some longer sets and challenging combinations working thighs, booty and core. Always have the option to lower weights and use body resistance. This 60 minute class will increase both your strength and stamina while keeping your body long and lean with proven barre stretches. All levels welcome.




The cycle-barre combo class, DJ Bike to Barre, will get your heart pumping to burn fat and gain endurance. This is our original Bike to Barre class with the spin, of the turn tables that is! DJ Elbruque will be spinning on the 1s and 2s as you ride with your instructor! You will start with a cardio intense 35 minute RIDE, then you'll slide off the saddle and head to the barre room for strengthening and lengthening, defining muscle with every class. Prepare to sweat, we will be maximizing our time on the bike and in the barre room!




Reshape your entire body in 60 minute class. The perfect blend of cardio along with muscle building, core toning and body slimming exercises mixed with cardio and orthopedic stretching. This unique total-body workout targets the arms, thighs, seat and core. Based on the principles of the Lotte Berk Method and Callenetics you get the fat-burning benefits of interval training by isolating the muscles with precise isometric movements followed by orthopedic stretching to sculpt long, lean muscles. Using your own body weight as resistance you will sculpt your body to perfection with this combination of cardio and strength training. Long lean legs, a lifted seat, a tighter core, increased flexibility and strength are just a few of the benefits.




This 50 minute class gets you in and out in a flash. You will work your body with a series of sprints, hills, intervals and jumps all set to motivating music. This class will provide a challenging workout for all levels. Heart rate monitors are recommended.




Arms, Abs and Ass served up sauteed, grilled, and oven baked. You will leave here golden brown.




This amped up barre class continues to build during the entire hour. Experience muscle sculpting, posture tuning and hi-fi movements and combos that will get your metabolism revved up without having to lace up your trainers and hit the pavement! Progression of movements with attention to posture and breath helps keep you tuned in and working at your level with options to add on and back off where your body needs it. Stretches incorporated where needed but generally reserved for the end of a section or closing of class. Clients are always encouraged to take breaks and stretches where they need them.




Not the kind you eat, but jam packed to work you head to toe so you can squeeze in more muscle in less time. You will double up on muscle groups to maximum burn time. This class is fast paced with stretches generally reserved to the end of class.




Formally known as Band RIDE. Our base RIDE with # (pounds) using resistance bands, rings and weights as the closing act. We will work your body with a varied series of sprints, hills, intervals and jumps all set to the best music in the business (at least we think so). This class will provide a challenging workout for all levels. Heart rate monitors are recommended.




This class will introduce you to our style of cycling, teach you the moves and terminology, and get you sweating. Increase your awareness to build your strength. Knowledge is POWER!This is a FREE CLASS.