Lorie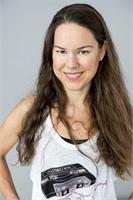 Lorie was hooked on Pilates from her first class in a sweaty gym in New Jersey. She has been passionate about sharing Pilates with others (whoever will listen, really!) ever since. Join her for a class and leave feeling longer and leaner. Pilates helps to strengthen your core (your "powerhouse"), to keep you mindful and aware of your body, to make your movements more efficient, to balance you. Come try Pilates—your yoga practice, your long Saturday morning run, your hunched shoulders will thank you for it!
Lorie instructs the following:
This barre class will work you in big and small movements to get the heart rate pumping. Challenge your strength, endurance and balance to sculpt and tone. All levels welcome to this fast paced class. Alignment and a good awareness of movement is helpful, but not required.

This class offers choreography with quick coordinated movements so a good foundation of barre, Pilates, and dance are very helpful.




The cycle-barre combo class Bike to Barre will get your heart pumping to burn fat and gain endurance. You will start with a cardio intense 35 minute RIDE, then you'll slide off the saddle and head to the barre room for strengthening and lengthening, defining muscle with every class. Prepare to sweat, we will be maximizing our time on the bike and in the barre room!




This is great for those who want to just take the RIDE portion of Hybrid Classes. Want to take both but are on the WL? You can double book this time.




Reshape your entire body in 60 minute class. The perfect blend of cardio along with muscle building, core toning and body slimming exercises mixed with cardio and orthopedic stretching. This unique total-body workout targets the arms, thighs, seat and core. Based on the principles of the Lotte Berk Method and Callenetics you get the fat-burning benefits of interval training by isolating the muscles with precise isometric movements followed by orthopedic stretching to sculpt long, lean muscles. Using your own body weight as resistance you will sculpt your body to perfection with this combination of cardio and strength training. Long lean legs, a lifted seat, a tighter core, increased flexibility and strength are just a few of the benefits.