Carolyn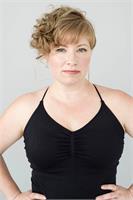 My love for Barre stems from my years of dance in NYC where I danced professionally with Frank Hatchett, Savion Glover, the Fly Girls of In Living Color. My passion for dance began when I was three years old and has never faded. I have been trained in ballet, tap, jazz, hip-hop and theatre and have choreographed and danced for music groups such as Heavy D and The Boyz. My career has been reignited over the past couple of years where I have been teaching Barre classes, along with Indoor Cycling and Personal Training. When I'm not teaching fitness classes, I'm working one on one with my personal training clients on getting fit, healthy and balanced at MY STUDIO in Chapel Hill which I own and operate.
I also hold a degree in Interior Design and have worked independently for 10 years. My philosophy is "commit, let loose and enjoy the music. Everything else will fall in place and you will discover your inner ballerina."
Carolyn J. Levy
MY STUDIO
Personalized training for every person
Certified Personal Trainer, Barre, Spin and TRX instructor
646-431-3464
Carolyn instructs the following:
Reshape your entire body in 60 minute class. The perfect blend of cardio along with muscle building, core toning and body slimming exercises mixed with cardio and orthopedic stretching. This unique total-body workout targets the arms, thighs, seat and core. Based on the principles of the Lotte Berk Method and Callenetics you get the fat-burning benefits of interval training by isolating the muscles with precise isometric movements followed by orthopedic stretching to sculpt long, lean muscles. Using your own body weight as resistance you will sculpt your body to perfection with this combination of cardio and strength training. Long lean legs, a lifted seat, a tighter core, increased flexibility and strength are just a few of the benefits.




This is great for those who want to just take the RIDE portion of Hybrid Classes. Want to take both but are on the WL? You can double book this time.




This barre class will work you in big and small movements to get the heart rate pumping. Challenge your strength, endurance and balance to sculpt and tone. All levels welcome to this fast paced class. Alignment and a good awareness of movement is helpful, but not required.

This class offers choreography with quick coordinated movements so a good foundation of barre, Pilates, and dance are very helpful.